Responsible Waste Removal from MN Waster and Transfer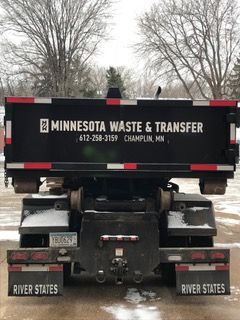 We all know that landfills aren't the best place for trash. That's why we make every effort to sort through our dumpsters to keep as much out of landfills as we can. At Minnesota Waste & Transfer we try to recycle as much product and waste that we can, and the items that we can't recycle we attempt to repurpose.
In addition to responsible recycling and repurposing, all of our drivers also make sure to look after your site as well. We will inspect and sweep up the areas around our dumpsters before hauling them away so you don't have to worry about any leftover debris.
Veteran Owned and Operated
After our founder, Josh, finished his tour in the military, he got a job driving a beer truck to help pay for his tuition. While driving the beer truck, Josh started to develop a love for the trucking industry and began to explore opportunities within that industry. He discovered that many of the traits he developed while in the military; punctuality, discipline, hard work, focus, and the ability to underpromise and over deliver, were not always common in the dumpster rental industry. Josh had found his opportunity, and created Minnesota Waste And Transfer.
In addition to running Minnesota Waste and Transfer, Josh is also a busy networker and has created many useful contacts in the small business world. If you happen to talk to or meet up with Josh somewhere and need help outside the scope of waste removal or a dumpster rental, you'll find he's full of valuable information and contacts.
Where does all that trash and debris go?
People often ask me that very question. At Minnesota Waste and Transfer we care about the environment and we take great strides in responsibly eliminating waste.
Household waste goes to a transfer station to get sorted while the recyclable items get recycled and the rest heads to the incinerator to produce heat and energy.
The demo debris gets sorted as well and what can be recycled is and the remaining debris goes to the landfill.